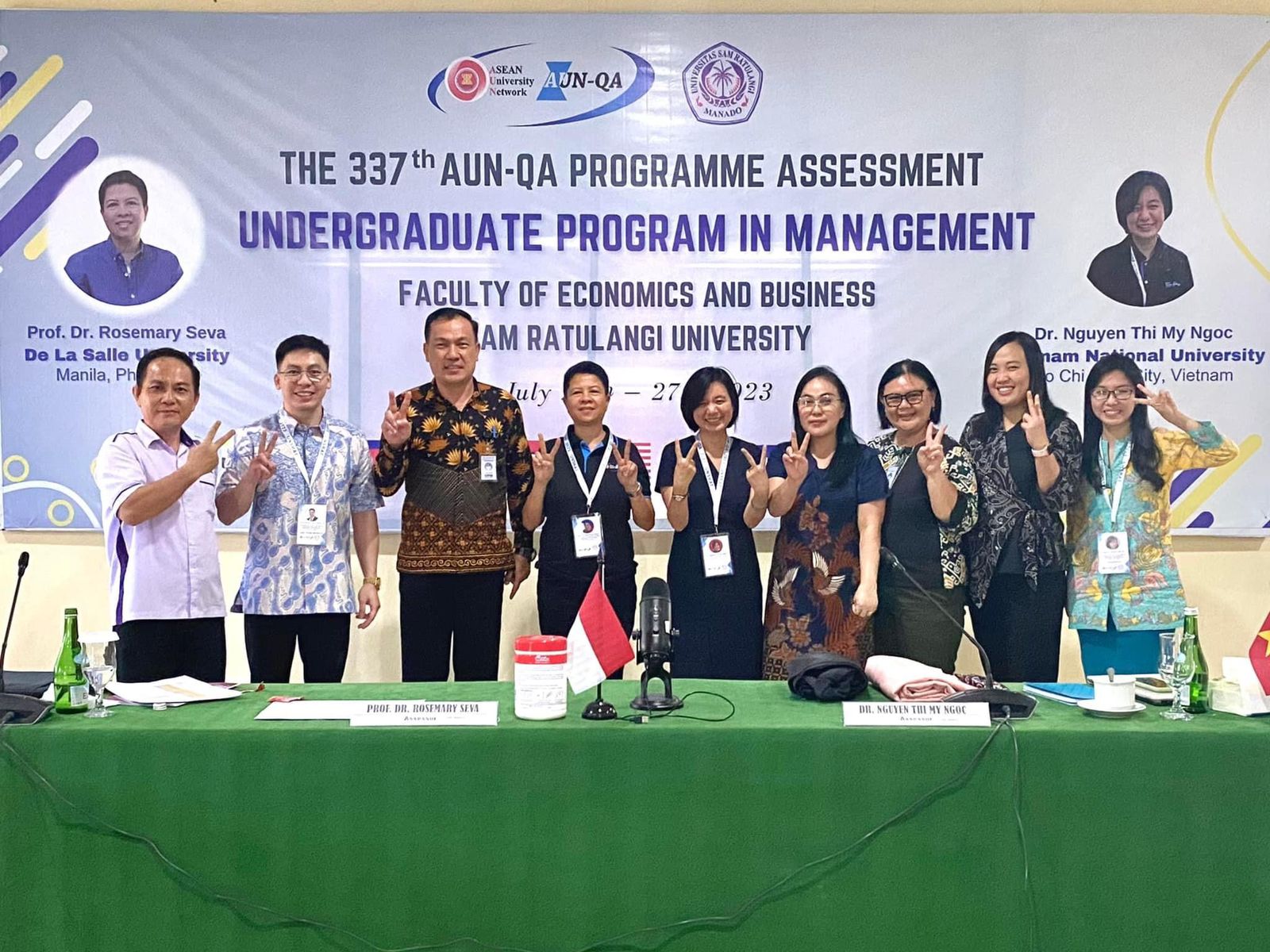 The 337th AUN-QA Programme Assessment Undergraduate Program in Management
The realization of UNSRAT as an autonomous and accountable higher education institution in carrying out effective and efficient institutional functions to increase the independence of the  S1 Management Study Program or Undergraduate Program in Management (UPM) as part of the Faculty of Economics and Business, Sam Ratulangi University, has a Vision to become an Excellent University and Academic Culture with a sustainable Business and Entrepreneurship spirit. In line with the university's vision of "stronger to excel" and as a form of joint commitment between faculty leaders and the S1 Management Study Program in an effort to improve the sustainability of academic quality through AUN-QA accreditation.
Assesor UPM
Lead Assessor : Prof. Dr. Rosemary Seva
Assessor: Dr. Nguyen Thi My Ngoc
The SAR team was formed by the Decree of the Rector concerning the UPM's AUN-QA task force.  The task force is led by Dr. Victor P. K. Lengkong, SE., M.Sc., CWM® (Chairman), Lawren Julio Rumokoy, SE., MM., GradDip., PhD (Vice Chairman), Regina T. Saerang, SE., MM (Secretary) and Dr. Imelda W. J. Ogi, SE., MM (Vice Secretary).
The structure is as follows:
Advisory Board :
Dr Ivonne S Saerang SE.,MM., CWM® Dean of FEB Unsrat
Dr. Hendrik Gamaliel SE.,MSi.,Ak.,CA., CWM®
Dr. Joubert B Maramis SE.,MSi CWM®
Head of UPM: Dr Lucky O.H. Dotulong SE.,MSi., CWM®
Secretary of UPM: Dr Indrie Debbie Palandeng SE.,MSi
Task force Chairman: Dr Victor P.K Lengkong SE.,MSi CWM®
Task force Vice Chairman : Lawren Julio Rumokoy, SE.,MM., PhD
Task force Secretary: Regina T Saerang SE.,MM
Task force Vice Secretary: Dr Imelda W.J Ogi SE.,MM
Site Visit AUN-QA Programme Assessment at UPM on Tuesday 25 – Thursday 27 July 2023 F2 Building 5th Floor, Faculty of Economics and Business, Samratulangi University.
Opening Session di Auditorium, 4th Floor, UNSRAT Rector's Building
Briefing by Dean
Meeting with SAR Team
Meeting With Academic Staff
Meeting With Support Staff
Meeting With Student's
Meeting with Alumny
Meeting With Employer's
Sampai Clafification with SAR Team
Closing Session: Closing Remarks by AUN-QA Council Member and Chief Assessor, Dr. Eddy Chong Siong Choy dan Closing Remarks by University representative